Pergola offers an enjoyable and comfortable way to enjoy your outdoors. These structures extend your outdoor functionality regardless of the weather. To guide you in installing the right type of pergola, here are 4 pergola materials you can consider.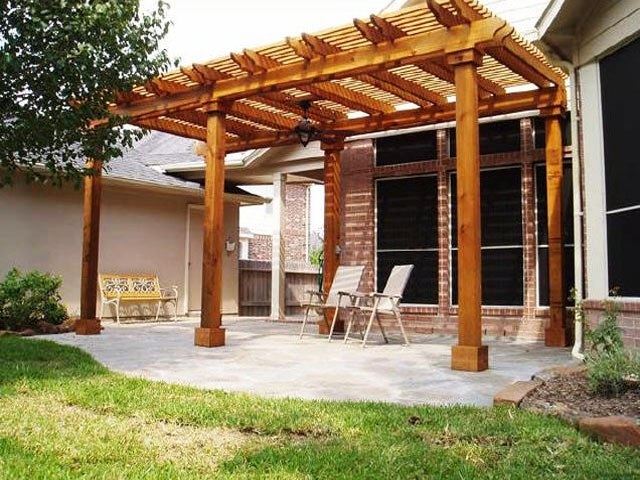 Wood
One of the most popular pergola materials and most common is wood. Landscape architects love working with wood since it's highly customizable and can easily be adjusted in size or shape if needed. There is also a wide range of wood types to choose from, whether it's redwood, cedar or chemically-treated wood. It also effortlessly elegant and classic with its wood grains, giving a homely atmosphere outdoors.
However, going with a wood pergola means doing annual maintenance to prevent the wood from succumbing from wood rot and weather damage. If painted, you would also need to regularly re-paint it to keep its original appearance.
Steel
Sleek and modern, steel pergolas give a chic simplicity to your patio cover. There is also a wide range of options available for you in terms of color, size, finish and type. This makes a metal pergola flexible and easy available. It's also weather-resistant, making it a sturdy choice.
But remember that with metal pergolas, you might have to ask your preferred landscape contractor whether they know how to install a metal pergola. This is because these metal ones will need special tools so you can further customize it. A metal pergola kit can also be quite expensive.
Aluminum
An easy-to-install pergola kit, an aluminum pergola is also a low maintenance type which makes it a favorite among homeowners. You can also have it come in either a solid cover or open lattice type.
Like steel pergolas, aluminum ones can also be costly and will also need special tools. To install one in your yard, make sure to find experience landscape contractors to do this for you.
Vinyl
Made from PVC material, a vinyl pergola boasts of its durability, strength and stability. It will certainly not rot, be plagued with insects or need annual maintenance.
However, vinyl pergolas may be prone to yellowing and discoloration. You may also need to check if the manufacturer offers warranty. It might not be as expensive as the other pergola materials but you may need to replace it after a couple of years.