If you're into the indoor-outdoor living set up where open space is much treasured, then read on and be inspired to explore the possibilities for your own home.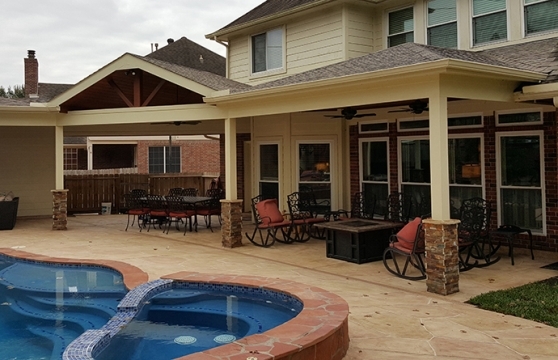 Roof Extension
If you already have a patio space, make it more cozy and inhabitable with a patio cover added seamlessly by simply extending your roofline. With this cover, you can now fully enjoy the benefits of having an outdoor space which you can transform to complement the kind of indoor-outdoor lifestyle you desire.
Glass Wall Panels
Clear glass wall panels provide an unobstructed view of your landscape while keeping the harsh weather elements off. To complete the open setup, why not have a pergola act as your patio cover to let as much light into your outdoor room while still remaining protected from the sudden onset of rain.
Porch Addition
Instead of the usual lone rocking chair for porch furniture, turn your porch into a transitional recreation area by arranging more than just a rocking chair. Install sturdy outdoor seating furniture made comfortable with pillows and a rug to complete the homey atmosphere.
Outdoor Kitchen and Dining Area
Invite some friends over for a backyard barbecue or homemade pizza made lovingly in your outdoor kitchen and shared gratefully on your outdoor dining area. A gravel patio creates an interesting texture on ground while the smoke coming from the grilling or oven provides an olfactory treat, tickling your taste buds.
Living Room Deck
How nice would it be to relax and unwind in a living room that promotes the indoor-outdoor setting. With its open concept, lounge in an open outdoor living space which is both fresh and covered. To prevent feeling encumbered from within your deck space, install a pergola cover. This will give you much needed cover but still welcome ample sunlight for the space.