Whether your outdoor space is big or small, an outdoor kitchen can still fit. It all depends on the type of outdoor kitchen setup you have in mind. Browse our 3 highly recommended setup types and see which fits your outdoor space perfectly.
The Entertainer's Outdoor Kitchen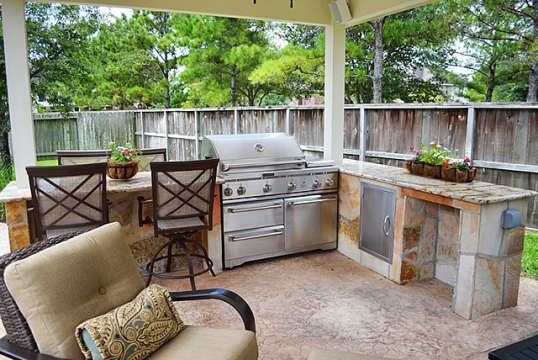 Chat and cook at the same time in this kitchen that has everything an entertainer needs. Give your guests space to sit and relax with your workspace within their earshot. This next outdoor kitchen layout follows the same principle.
But when it comes to counterspace, you have different levels for both food preparation and presentation as well. If someone needs a drink, the fridge is conveniently nearby to let you get them their chilled beverages.
The Classic Outdoor Kitchen
A spacious backyard with lots of potential, this project created a full-fledged outdoor kitchen complete with a patio cover and stamped concrete flooring, to make this family's outdoor cooking a true feast. There's also ample space for guests and friends to roam around or set up a seating area in the midst while waiting for the meats to cook.
Meanwhile a variation of the classic outdoor kitchen execution has come full circle by having the kitchen and dining area in one setup. There's also a clever use of vertical space with attached floating cupboards for dinnerware.
Indoor-Outdoor Kitchen Dining Experience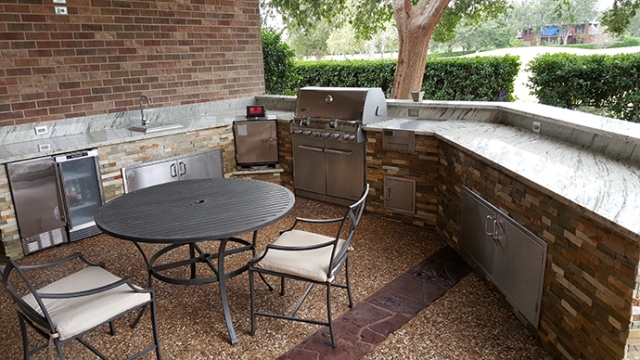 It's the best of both worlds. Being out of doors cooking your favorite meal while still being protected from harmful weather elements, it's no wonder indoor-outdoor kitchens remains to be one of the top projects for home owners. In this project, for example, instead of having a simple seating space in their patio, they had the patio perimeter converted to a kitchen countertop with storage and custom-fitted for the kitchen equipment & features they needed.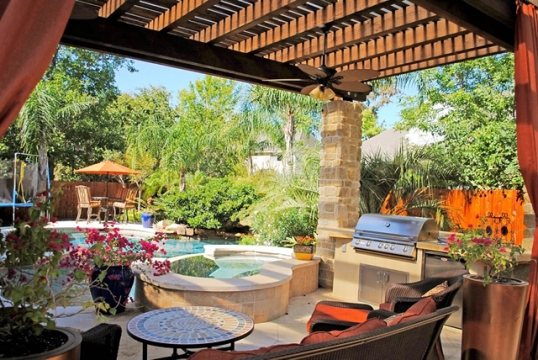 Meanwhile, this pool lounge area became multi-functional with a compact kitchen on the side. A pergola overhead lets enough sunlight in and keeps the area open and airy, still encapsulating the indoor-outdoor ambiance.