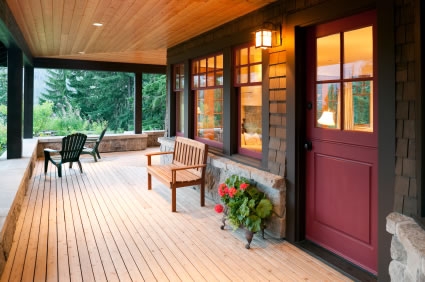 Want a carefree style and feel for your porch? Have this relax-inducing items and feel like you've stumbled into your very own personal paradise every time you wander into your porch.
Rugs, rugs and more rugs
Isn't it cool if you can just lie on the floor and look at the bright blue sky? Well, the floor would be too hard so a rug is needed. Put down some fluffy pillows, a bean bag or two and a low coffee table and you already have a perfect spot to just lay down or even do some yoga poses.
Hammock
Since getting the bohemian look means going the easy, carefree way, nothing spells that more out than a hammock. Put some palm trees beside it for better framing and one can already imagine the soothing sounds of the beach. All you need is a gently running brook to stand in for the waves and you're off to a relaxing afternoon.
Free-flowing curtains
Instead of lugging around heavy privacy screens, why not make it more secretive yet intriguing by hanging some free-flowing curtains? Complete your bohemian outdoor lifestyle with some candles to throw fanciful shadows when you wander outdoors at night. Just make sure the candle is nowhere near the curtain to avoid fire accidents.
Hanging lanterns
Aside from the stars shining above you, hang some lanterns to light up your bohemian porch. Set the right bohemian ambiance and let the lights dance merrily for you.
With these items, you can easily create a bohemian look that's inviting, refreshing and relaxing. For your rugs, pillows and curtains, don't be afraid to choose designs with detailed and colorful mosaics. This definitely captures the bohemian theme and also provides interesting visuals for your porch. So what are you waiting for? Go create your bohemian paradise now!