Do you often look outside your patio and wonder how you can bring new life to your outdoor living? Consider these cheap but chic patio ideas and get a brand new looking patio without breaking your bank.
Reclaimed Wooden Frames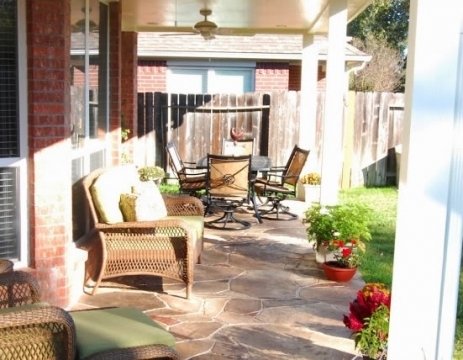 Got vintage and rustic-looking wooden frames? Before throwing it out, why not see whether it can be fashioned into a pergola instead? Pergolas made from reclaimed wood stuff not only render your finished product looking great but also give it an original look.
Potted Living Screens
Go for medium to high trees, tall shrubs or even bamboo plants and have your very own living privacy screen. Being potted, one can easily move it following the direction of the sun's harsh rays and prevent you from being roasted while lounging out of doors.
Living Curtains
Don't stop on living privacy screens. Try living curtains made of creeping vines and trellises to provide the feeling of cultivated wilderness right in your own backyard. This instantly gives your patio a safe and enclosed ambiance where one can get away from the world's daily stress.
Paved Steps
From tree stumps to stone and flagstone, installing steps leading to and from your garden invites further exploration of your backyard. It instigates one's curiosity into what lies beyond your patio and gives the illusion of space.
Canopy
Nothing spells like something festive like a canopy does. Perfect for when there are gatherings, a canopy drapes your backyard in celebratory glee.
New Hues for the Furniture
Giving your patio furniture new colors easily transforms the look of your garden. Just make sure it won't clash with your garden's whole look.
Giving your patio a new look does not mean a hefty remodeling price tag. With these cheap but chic patio ideas, you can keep your patio looking interesting and inviting once again.