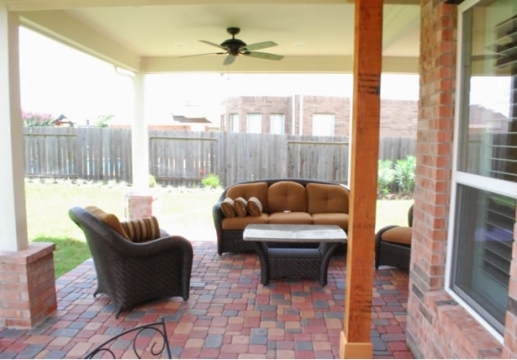 Usually a waiting area for our guests, enough importance and creativity should be showered upon our patios. By adding a whimsical touch to your patio seats, you can easily raise your curb appeal and create interesting talking points for your guests.
Cinder Blocks
If you have some cinder blocks lying around, pile it up and create a shabby chic look for your patio seats. It also helps if your patio surface material is from the same family which easily weaves the look together. You can also use it as plant containers or even borders. Due to its compact size, it's perfect for minimalist gardeners who love a variety of plants but do not like a cluttered, overgrown look to their garden.
Tires
With some sturdy ropes, rattan preferred, cover your old tire and transform it into a pretty rattan seat. Not only did you help the environment by recycling, you'll also get to save and still have a chic outdoor furniture. If you want to relive some of your childhood days, hang it from a sturdy pergola or tree branch and have a swing. Pretty nifty, don't you think?
Pallets
With its sound structure that does not need any further assembly, pallets have been a favorite seating type for outdoors. Just throw in some soft seating cushions and voila, you already have an outdoor seating area. And since it's compact and easy to move, you can change your outdoor seating design easily.
Hammocks
It's not just whimsical, it also invites one to relax and unwind. For those with limited space, hammocks also provide one with a flexible seat that can be taken out when not in use. Go bohemian for a free and easy patio seating with a hanging hammock.