Thinking of how to jazz up your patio even more? Read on and find out what items you can put on your patio for a merry effect!
Table Lamps
While table lamps usually belong indoors, by simply switching the table lamp cover from an ordinary cloth to a rain-resistant material, you'll have your patio illuminated even on rainy days. It also creates a quaint atmosphere which reminds you of the indoors even when you're on your patio.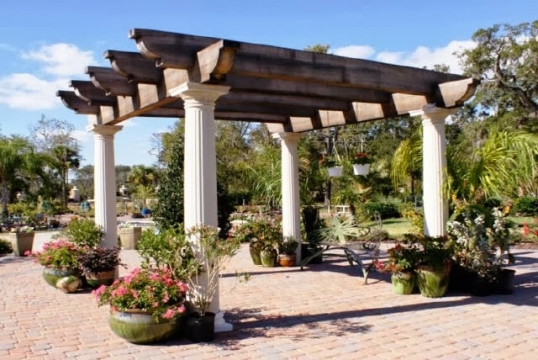 Chandelier Vase
Another pretty addition to your patio would be a chandelier vase. Whether you choose to re-purpose an old chandelier to serve as your orchid's floating pot or let your roses grow on a hanging pot is up to you. By doing this, you're sure to have a patio smelling like a perfumery in no time.
Bookcase
We all know books and fickle weather don't mix very well together but having a sturdy weather-proof case lends your books a unique breathing space. Not only will your patio look more of an enclave for learning, you'll also get a constant reminder to catch up with your reading in a place best conducive for doing it. With plenty of light and a cup of tea or coffee at your side, let your mind wander to places outside of your garden with a book in hand courtesy of your patio bookcase.
Garden Armory
If you have garden implements, take them out of that dusty old storage and display them proudly instead on your exterior wall or fence. Whether horizontal or vertical, you only not easily account for all of them, you also have an instant gardening décor that fits your patio.
Door Room
Create an outdoor room by piecing together five re-purposed doors. Join four doors to make up a privacy wall and the fifth one as a makeshift roof. Now your tête-à-tête at your patio will have the privacy of your indoors.